Publisher:
Penguin Books
Release Date:
May 27, 2014
Pages:
496
Kindle Edition
Genre:
Historical Fiction
Book Description:
From the New York Times bestselling author of Me Before You and One Plus One, a post-WWII story of the war brides who crossed the seas by the thousands to face their unknown futures
1946. World War II has ended and all over the world, young women are beginning to fulfill the promises made to the men they wed in wartime.
In Sydney, Australia, four women join 650 other war brides on an extraordinary voyage to England—aboard HMS
Victoria
, which still carries not just arms and aircraft but a thousand naval officers. Rules are strictly enforced, from the aircraft carrier's captain down to the lowliest young deckhand. But the men and the brides will find their lives intertwined despite the Navy's ironclad sanctions. And for Frances Mackenzie, the complicated young woman whose past comes back to haunt her far from home, the journey will change her life in ways she never could have predicted—forever.
Wanda's Thoughts:
The Ship of Brides is a well-researched fictional account of a voyage, carrying amazingly young brides, from Australia to England, on a WWII aircraft carrier, the HMS Victorious. It is the story of new beginnings, with themes of sacrifice, love, loss, and heartache.
Maggie, Avice, Jean, and Frances had very little in common, but they all wanted the same thing – to reach England and be reunited with their husbands. The four are among 650 brides who shared the same hopes and fears. They were about to make this arduous journey on an aircraft carrier to a life of uncertainty.
Maggie is pregnant and prepares to go to England to be with her husband, Joe. She started having doubts as to whether she should leave her family behind. She didn't want to think of them on their own, but Maggie was the character who exuded strength and confidence. By the time her baby would be born, Maggie and Joe would have shared only 4 weeks alone together in their married life.
Avice – The war had hastened everything, and Avice's marriage to Ian took place only 4 months after they first met. Avice came from a well-to-do family, her father owned the biggest radio manufacturer, and she was rather spoiled, accustomed to living a rich lifestyle.
Jean was 16 years old and immature, acting in a disgraceful way. She was not the kind of girl the other brides would normally associate. There was the air of mutual dislike for Jean among the girls – she could be awfully trying. Jean was on her way to England to meet her 19 year-old-husband.
Frances, a nurse, was the character I found to be the most interesting. She was reserved, not sharing her past with any of the girls. She showed little interest in what the girls were doing, and seemed emotionless. There was a bit of mystique about Frances.
Australia – 1946 -There was an air of nervous anticipation as the brides left Australia, perhaps viewing it for the last time. The four brides had very little in common, other than they all wanted the same thing – to reach England and be reunited with their husbands. And the story unfolds as the brides were overcome with a myriad of obstacles and they struggled to cope with the difficult realities of the long voyage.
The author does a marvelous job capturing the mood and living conditions on the ship, and her power with words is incredible! This story has an interesting premise and has the potential to be a really good read. The plot moves rather slowly, but with interesting twists and turns developing along the way. Unfortunately I wasn't able to stay engaged with the characters and storyline, especially in the middle section. I have mixed feelings about this book – it was an interesting read, and Jojo Moyes is one of my favorite writers, but I just can't enthusiastically recommend this book. My rating is 3.5 stars.
I received a complimentary copy of this book from NetGalley in exchanged for an honest review.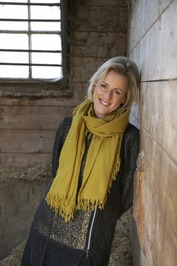 About the Author:
Jojo Moyes is a British novelist.
Moyes studied at Royal Holloway, University of London. She won a bursary financed by The Independent newspaper to study journalism at City University and subsequently worked for
The Independent
for 10 years. In 2001 she became a full time novelist.
Moyes' novel
Foreign Fruit
won the Romantic Novelists' Association (RNA) Romantic Novel of the Year in 2004.
She is married to journalist Charles Arthur and has three children.