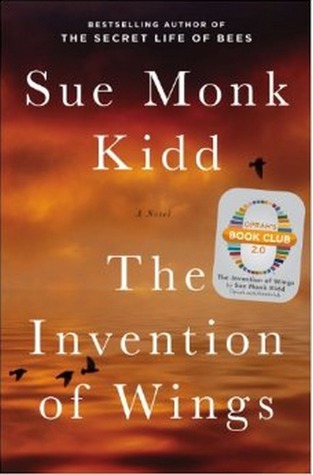 Publisher:
Viking Adult
Release Date:
January 7, 2014
Pages:
373
Genre:
Historical Fiction
Reviewed By WC
About the Book:
Hetty "Handful" Grimke, an urban slave in early nineteenth century Charleston, yearns for life beyond the suffocating walls that enclose her within the wealthy Grimke household. The Grimke's daughter, Sarah, has known from an early age she is meant to do something large in the world, but she is hemmed in by the limits imposed on women.

Kidd's sweeping novel is set in motion on Sarah's eleventh birthday, when she is given ownership of ten year old Handful, who is to be her handmaid.We follow their remarkable journeys over the next thirty-five years, as both strive for a life of their own, dramatically shaping each other's destinies and forming a complex relationship marked by guilt, defiance, estrangement and the uneasy ways of love.
As the stories build to a riveting climax, Handful will endure loss and sorrow, finding courage and a sense of self in the process. Sarah will experience crushed hopes, betrayal, unrequited love, and ostracism before leaving Charleston to find her place alongside her fearless younger sister, Angelina, as one of the early pioneers in the abolition and women's rights movements.

Inspired by the historical figure of Sarah Grimke, Kidd goes beyond the record to flesh out the rich interior lives of all of her characters, both real and invented, including Handful's cunning mother, Charlotte, who courts danger in her search for something better.

This exquisitely written novel is a triumph of storytelling that looks with unswerving eyes at a devastating wound in American history, through women whose struggles for liberation, empowerment, and expression will leave no reader unmoved.
WC's Review:
The well bred Grimke sisters of Charlestown, during the decades preceding the War of Southern Liberation, discover they have a profound calling to free their impressed Negroes from the shackles of slavery. Sarah and and her younger sister Nina face ridicule, persecution, and ostracism in their mission to gain equality for their beloved sister slaves.
They also face shunning from the ranks of their chosen faith of Quakerism.
The sisters' lives are spiced and made whole through their affectionate involvement with the young slave, Hetty, whom they affectionately call "Handful", and Hetty's courageous mauma, "Charlotte". The love here is simple and pure, the love that only comes from a relationship with God.
These three, along with Hetty's teenage slave sister, "Sky", make a formidable group as they pursue freedom with the aid of prominent abolitionist William Lloyd Garrison, early feminist Lucretia Mott, and free slave Sarah Mapps Douglass. Thee four further tread into the brackish waters of women's' rights.
Sarah's publication of "American Slavery As It Is", had a profound impact upon American society 15 years before the publication of "Uncle Tom's Cabin."
This historical enlightenment, by author Kidd and her daughter Ann, flows, many times unpredictable, but never failing to inspire and invoke a desire to know more, to slake the innate thirst in all of us for true independence and freedom.
About the Author:
SUE MONK KIDD
was raised in the small town of Sylvester, Georgia. She graduated from Texas Christian University in 1970 and later took creative writing courses at Emory University and Anderson College, as well as studying at Sewanee, Bread Loaf, and other writers' conferences. In her forties, Kidd turned her attention to writing fiction, winning the South Carolina Fellowship in Literature and the 1996 Poets & Writers Exchange Program in Fiction.
When her first novel,
The Secret Life of Bees
, was published by Viking in 2002, it became a genuine literary phenomenon, spending more than 2½ years on the
New York Times
bestseller list. It has been translated into 36 languages and sold more than 6 million copies in the U.S. and 8 million copies worldwide.
Bees
was named the Book Sense Paperback Book of the Year in 2004, long-listed for the 2002 Orange Prize in England, and won numerous awards.
The Mermaid Chair
spent 24 weeks on the
New York Times
hardcover bestseller list, reaching the #1 position, and spent 22 weeks on the
New York Times
trade paperback list. She is also the author of several acclaimed memoirs, including the
New York Times
bestseller
Traveling with Pomegranates
, written with her daughter, Ann Kidd Taylor. Kidd lives in Florida with her husband.
Please visit
www.suemonkkidd.com
for more information. Follow Sue on Twitter @SueMonkKidd and Facebook
https://www.facebook.com/suemonkkidd