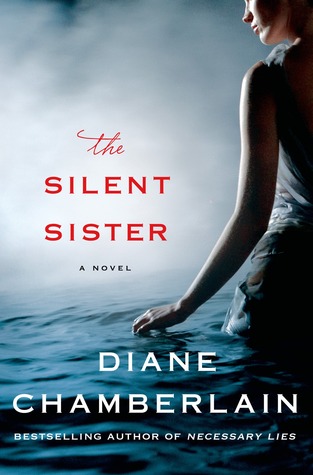 Publisher:
St Martin's Press
Expected Release Date:
October 7, 2014
Pages:
352
Genre:
Mystery
About the Book:
n
The Silent Sister
, Riley MacPherson has spent her entire life believing that her older sister Lisa committed suicide as a teenager. Now, over twenty years later, her father has passed away and she's in New Bern, North Carolina cleaning out his house when she finds evidence to the contrary. Lisa is alive. Alive and living under a new identity. But why exactly was she on the run all those years ago, and what secrets are being kept now? As Riley works to uncover the truth, her discoveries will put into question everything she thought she knew about her family. Riley must decide what the past means for her present, and what she will do with her newfound reality, in this engrossing mystery from international bestselling author Diane Chamberlain.
Wanda's Thoughts:
This book is the perfect example of why I love to read. It has it all – a well constructed plot, compelling characters, and a satisfying conclusion. Truly well done!
1990 – Alexandria, Virginia – An empty kayak, surrounded by ice, is found in the middle of the river. A seventeen-year-old girl, Lisa MacPherson, is missing and presumed dead. Lisa had been accused of murder and had taken the easy way out, apparently committing suicide. No body had been recovered, but the police were giving up the search, reasonably sure the body rested somewhere beneath the icy river.
25-year-old Riley MacPherson had lost everyone she loved. She returns to her childhood home, after the death of her father, to settle his estate. Riley misses her dad. He was so easy to talk to, and no one had loved her more deeply. She now has the daunting task of cleaning out the house and going through the many items her father had collected over the years ---collections had been his obsession. As she gets the house ready to sell, she is confronted with many memories. She soon turns up some very dark family secrets and believes that most of her life has been a lie --- nothing is, as it seems. Riley's life is filled with gaps, and the story unfolds as she sets out to find the truth, and uncovers more secrets than she ever could have imagined.
Lisa had been the princess of the MacPherson family. Their world seemed to revolve around her - their violin Goddess. Lisa was very talented, driven to play the violin, and it was the one thing that made her world complete and brought her joy.
The characters were all interesting and expertly drawn, even the minor ones. The author weaves a tale of dark secrets and betrayal throughout, with many twists and turns that I didn't see coming. Drama was included from beginning to end, and the storyline certainly captured my excitement. Diane Chamberlain is fast becoming a favorite of mine. I just finished Necessary Lies a few weeks ago, and look forward to reading more from this outstanding author. This is one you don't want to miss! A gripping tale, that is well written, and thoroughly a great read! 5 Stars.
I received a copy of this book from NetGalley in exchange for an honest review.
All opinions shared are my own.
About the Author:
I'm the author of 23 novels published in more than twenty languages. I like to write complex stories about relationships between men and women, parents and children, brothers and sisters, and friends. Although the thematic focus of my books often revolves around family, love, compassion and forgiveness, my stories usually feature a combination of suspense, mystery and intrigue.
I live in North Carolina with my significant other, photographer John Pagliuca, and my shelties, Keeper and Cole--the only non-reading members of the household!
Please visit my website and blog. I look forward to seeing you there!